Nuances
Six one-line drawings, from the first book of Zoe Savina "Nuances" 1997, and six unpublished poems of Zoe Savina.
"I never erase a line, even if I'm not pleased with it. I proceed with the subsequent one until I reach the final form of my drawing...", Moustakas says.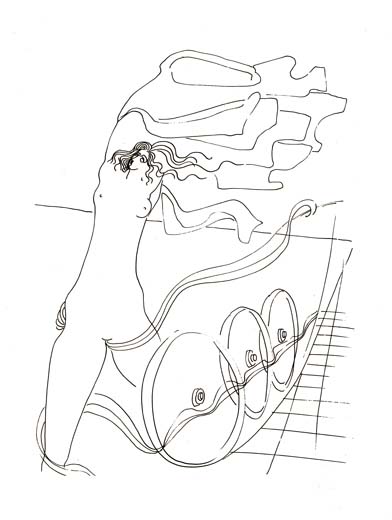 Full Moon - ARE YOU STILL HERE?
And I, thinking that you had left
I coiled under the eucalyptus
to resemble you,
smoothing down all your escapades.
Oh, my moon! You've gone white! Are you aged
or shining silver-gilt
with your wand,
dominating over waters and, as you think, me?
I am in red, hidden and beating drums
occasionally at night and you cannot find me and
occasionally submerged
with the tips of my toes and
making watery sounds
amongst mating swans
- while it would be more correct
if you sweetened distances.
It is a great pity that we be so far away
when we are advised by stars' lamps - fires
I dread you are not going to see me again
-I'll become powder like your silver dust,
baffling you in your thinking I belong to you.
       " Flows",  Indian Ink 0.35 x 0.50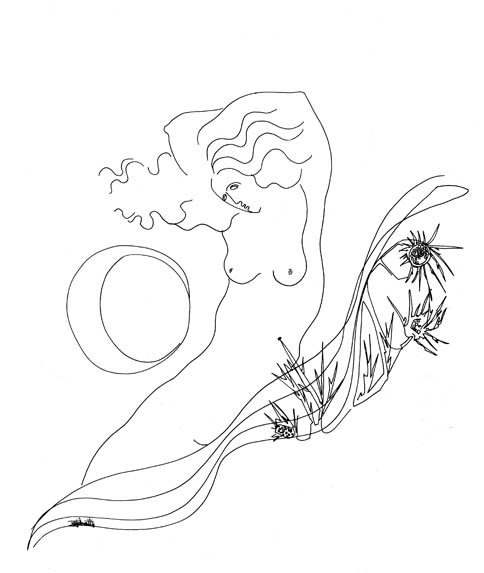 SOUL'S FOLDS - ALSO CALLED DRAPES
.. and as rose
has thorns, beauty and its thirty petals draped
so does my pain have a feather swallow
pushing under the auspices of temporariness
and a vermillion stallion
with teeth in between its gold reins.
My love has sugar from small swords
as though sharpened on blazed coals
and rending the hands of my pen.
Yet, 
from where does the silken cloth begin?
The folds on the peak of the body
unwinding their frozen care
while the angel of fire,
like being in the ecstasies of a flash
in the cosmos,
lies on the floor
-an empty garment
and lower than that
in another land.
       "Thorn moon", One-line drawings, 0.35 x 0.50 Indian Ink
       "Underworld's hammocks", India Ink 0.35Χ0.50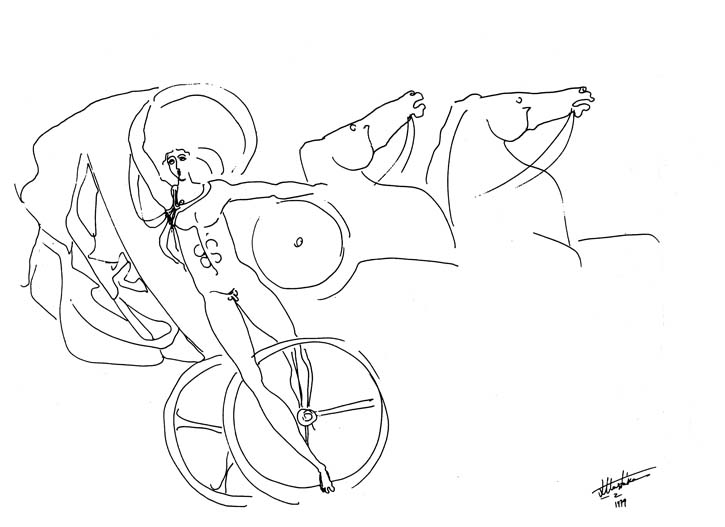 GOODNIGHT
Oh Morpheus
guitarist of dreams
play for me to hear
the future coming vehemently,
I'm waiting
the joker
to bloom my dream.
You play, play my heart,
pushing to guard me
like a dragon
for my great boldness
to talk about
Eros in the haze
prevailing round.
Do come
and I will lick
your expectation
like syrup
from my lips.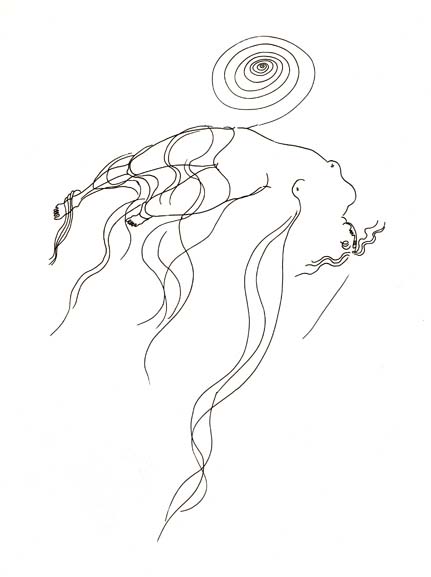 GOODNIGHT
You play, play my heart,
pushing to guard me
like a dragon
for my great boldness
to talk about
Eros in the haze
prevailing round.
       "By night", Indian Ink 0.35Χ0.50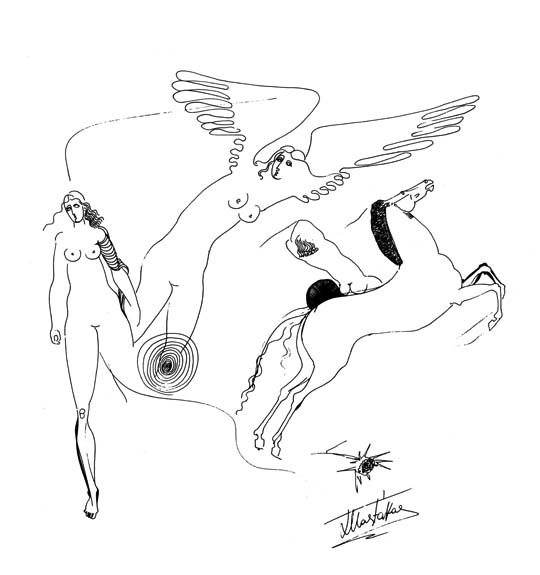 REALITY
...obsession persists..
Yes, it is not about a false excess:
reality invades in plain clothes
appeasing as if the fissure
took its last opening..
Reality is so many times
faster than my symbolisation.
At the moment I wanted to lull the wind
in my frenzy to shut the metopes of rhythm,
the fissure took the hue of panic
like a naked body
in the eyes of a stealthy glance
and unless I assimilate a concept
of excessiveness, my head
will slip backwards
harkening the universe
like the earth harkens death.
  "Blossom", India Ink 0.35 x 0.50
       "Outside the buds", India Ink 0.35Χ0.50
It is intolerably late that you drop out when
cities, belfries and blossomed
almond trees are being filled, odours penetrate through drape,
longing comes
in handfuls
and small mirrors multiply
my figure's red complexion,
filling knolls with stings.
Passion bounces
and the tramp of your heart
asks the never-drying fruits of paradise.
This picture may be
a fabricated dream
with water snakes
and wet nightly plinths