1950 - 1953
Moustakas takes examinations at the School of Fine Arts in Athens and enters the school without any preliminary courses.
His teacher was Michalis Tombros. Sklavos, Kalamaras, Panourgias, Thodoros, Koutsouratsas, Iliou, Halepa, and Vrelis were his fellow students, to name but a few. His contemporaries in other studios were Petros (Papavassileiou), Karras, Tsoklis, Ralis, Kopsidis, Parmakelis, Katapodis, Mytaras, Polychronopoulos, Kesanlis, Papadakis. The students used to meet up with the prominent architect Pikionis in the Museum gardens and engaged in intellectual conversations. He meets the Academian Nikos Veis and joins the groups of students and artists who meet at the loft of Loumidis coffee house - they interact.
At that time there was  a society called 'Kastalia' where Moustakas, Parlavantzas, Argyrakis, Negrepontis and others held discussions and advanced proposals on art. In his spare time, he used to go to the cinema and the Royal Theatre.
1954
He graduates with first-class honours and becomes a member of the Artist's Chamber. From 1950 to 1954, he taught free-hand drawing, use of colour, engraving and architectural design at the 'Athina' High School, using slides and aesthetic analysis. There he creates 'a small school of fine arts', and among his pupils who had a distinguished career in the arts were Sintelis, who became a painter, Kokos, the set-designer and director who worked in Paris, and Strountzou, leading lady at the National Theatre.
1. Composition «Horses» Ceramic 0.17Χ0.16Χ0.9 (Before he goes to Athens School of Fine Arts)
2. Between two sculptures made of porcelain. Before goint to ASFA, he worked at Kerameikos to earn some pocket money.
3-4. At Athens School of Fine Arts. Some of his sculptures while studying.
1955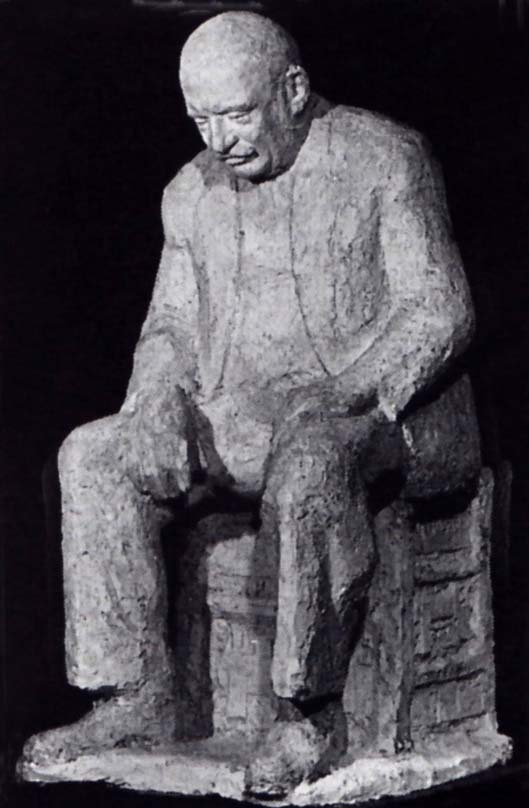 His younger brother Spyros, an Air Force cadet, is killed at the age of 23 while piloting an F-84G. This is a blow which leaves its mark on the whole family. Afterwards, Moustakas produced a sculpture (2.20m) with the figure of his brother dressed in 'Anti-g' uniform and holding his helmet. He also produces a relief of his flying figure- his wings the wings of an angel. Years later, he set up monuments in his memory. He included the theme of 'Icarus' in free compositions - heroic or optimistic, sometimes symbolic - with objects from aircraft turbines and aeroplane propellors.
In five hours he finished the sculpture of a seated figure 'My father' (1.30 x 0.63 x 0.73m.). He creates a life-size 'Stele Woman' - his mother.
"..After my brother's death, they used to sit for hours and staring into space..", he narrates.
"My father" (1950) - Plaster 1.30x0.64x0.72
1. With Zoe at the river Arno, Florence (1960)
2. Vittorio D'Aste, Bronze (1962)
3. Portrait of Zoe in wood (1960)
1956 - 1957
He receives his first commission - two marble busts for some institution. He takes part in the Moscow International Exhibition in the USSR and in the 5th Panhellenic Exhibition with his work 'Marousa', a life-size nude.
He has his studio at the back of the yeard at his father's house in Ambelokipi. The yard is full of statues. He studies classical literature. He meets his future wife, the poetess Zoe Savvinopoulou - her pen-name is Savina.
He illustrates an album of her early poems with line drawings: he fills the spaces between the poems with elongated figures, which he later, in Florence, transforms into sculptures.
1958 - 1959
His first staute is commissioned, the Konstantatos statue in Kefalonia.
He takes part in the Sarlas Gallery exhibition in Athens and is awarded a prize for his work 'Sagittarius'.
He holds his first individual exhibition at the Athens 'Techni' Gallery.
He receives the first prize in a competition for 'Monument to the Unknown Soldier' in Moschato and executes his work.
He is now involved in creative pursuits. His work includes sculptures in various sizes, in wood or directly in plaster, while he creates single-line and coloured drawings.