1974
He completes and sets up the 'Alexander the Great' monument. It is ready and in place on 30 August, St Alexander's Day - when the Turks were invading Cyprus.
1. With Zoe in Israel.
2. He works Attic on marble (at the stage of clay). He carves his well-known scarf in a bow and an engraved 'poppy' on the left.. The well-known 'Those poor youth how quickly they pass..' is inscribed at the front. 
Later Moustakas wrote in a letter: "I believe that a work of art, apart from its creator's need to express himself and to put into practice his moral and aesthetic values, is capable of functioning in a way instigated by many causes. Associating place and time, as if it were an orchestration. At  this point in history in Greecey, the particular work has something important to say, conserve, remind us of. The duty of the artist is to be able to preserve tradition, but he also has the obligation to speak at a world-wide level with proposals. I personally achieve the latter through my free work. Nevertheless, the traditional monument of Alexander the Great still breathes through time. It makes a statement about the fatherhood of our Macedonia, it makes references to the history of Greece, to its physiognomy. It also alludes to its philosophy, through Aristotle -Alexander's tutor".
1975
The family settles in Pallini (15 km. from Athens). There is a constant stream of visitors from all over the world.
He produces the large hammer-work sculptures 'The Ship', 'Epochoumeni', and 'Eros'.
«Young Thinker» Marble - Placed in the First Cemetary of Athens on the tomb of Theocharakis.  It has been characterised as 'National Treasure' along with 18 other works found in the cemetary.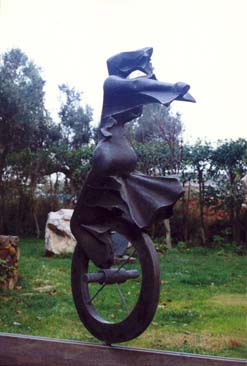 "I make large curves on the sculptures, so that there is a play of light and shadow. I want the viewer to complete it by taking part in it, and the empty space to operate as a sculptural mass. I never work on a single work, one composition. I am evovling many sculptures in parallel. In this way I have time to re-examine them, and repose   when moving from one work to the other. Eventually they are all completed at the same time..."
Solo exhibition at the Diogenis Gallery, Athens. He takes part in group exhibitions, in the IAG International Exhibition at the Municipal Centre in Athens, in the 13th Panhellenic Exhibition, and at the Cultural Centre of the Municipality of Kikkinia with the work 'Sarcophagus'.
He produces busts of famous figures. The free work 'Alexander the Great' is bought by the Vorres Museum of Contemporary Art.
1-2-3. "Onboard Woman" Wrought Copper (1980-82) 5.00 x 1.00 x 2.05 - Drawings with onboard women, Ink and metallic paintwork 0.70 x 0.50