1980
1. 2nd Arts Conference, 1990. M. Michailidou, E. Valvi, T. Polavantzas. M. Papadakis, E. Moustakas, S. Kontaratos
2. Event in the garden of the studio - Pallini 1988. The statue of Alexander the Great in Thessaloniki was presented through video-Poetry reading by Zoe Savina-Classical dance (Samuel Barber-Adagio for Strings)
3. With Chrysanthos Christou
4. Moustakas and Karavouzis, in Paris, 1986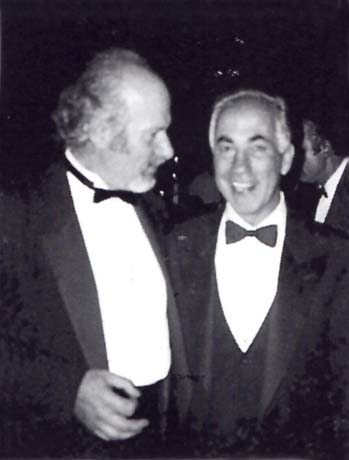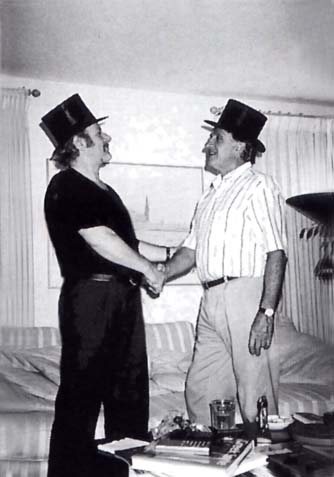 He designs the monument 'Lost Aviators' at the Air Force Academy in Tatoi and the monument 'Unknown Soldier' in Pallini.
He takes part in a group exhibition at the Oraisma Gallery, Athens.
Philippos Piperidis, sculptor from Australia, attends sculpture seminars at his studio for six months on the proposal of the Ministry of Culture. His 'Monograph' is filmed by ET2 (Greek Television 2) for the Hellenes abroad in 13 countries.
He is awarded an Honorary Degree by the Hellenic Air Force General Staff to mark its 50th anniversary.
1. With Angelos Tsakopoulos, holder of the 'Axios' award - Los Angeles 1989
2. With his friend Grigoris Kontos (painter)- Sacramento,  1989
1981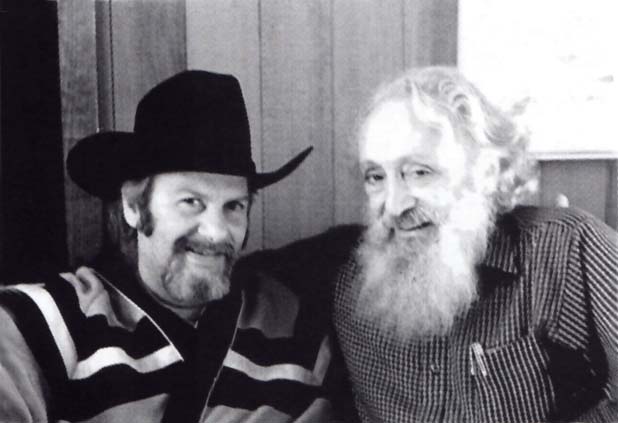 He carves 'Young Thinker' in marble with his son Ioannis as model, for the First Cemetery of Athens.
He produces busts of influential figures: Georgakopoulos, President of the Red Cross, and the Chairman of Heracles Cement, Constantinos Tsatsos.
He takes part in the open-air 'Sculpture '81 - Faliro' with 'Ship', and in the VIth Demetria Festival in Thessaloniki with 'Work Symbol'.
He starts working with the Ekfrasi Gallery.
During springtime he usually welcomes guests of all stages: from schoolchildren of kindergarden to college age and the elderly. Moustakas answers their questions and talks about sculpture. Zoe talks about poetry.
Photo: With his friend the potter Thanos Johnson - Sacramento, 1988 
1982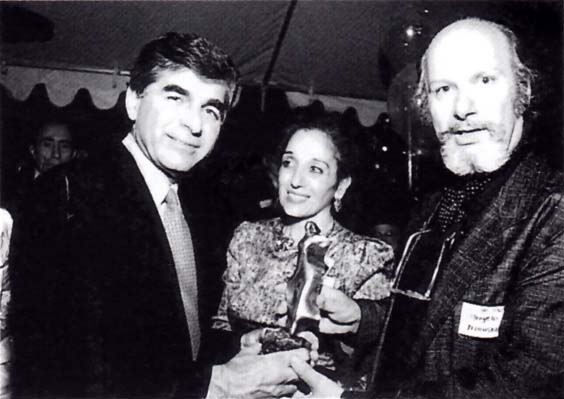 He creates four bronze reliefs for the Kaisariani Craft Industry Centre: 'Birds Awaking' and 'Birds at Sunset' (24 sq.m.) - the other two 'Man and Machine' and 'Birds and Suns' (24 sq.m.) remain at the foundry.
He is elected member of the Classification and Assessment Committee of the Chamber of Fine Arts of Greece.
He begins to work with the Epoches Gallery in Kifissia.
1. With Michael Dukakis, Sacramento USA
2. Honored by the Hellenic Air Force General Staff 
3. School visit to his studio-Talks about sculpture and receives questions. Zoe talks about poetry.
4. The elderly at his studio. The ping-pong table still standing in the middle of the room...
1983 - 1984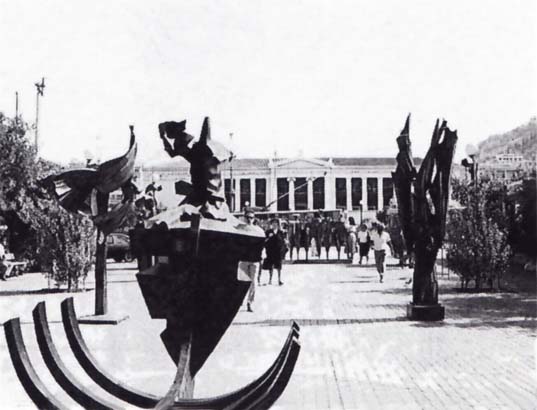 Solo exhibition with 21 large-scale sculptures at the 2nd Festival of Arcadia '40 years tribute to the Liberation of Tripoli from German Occupation Army 1944-84'. 
Ηe participates in the 1st Festival of Tripoli 'Arcadia 2000'. He meets the renowned poet Giannis Ritsos, who greets enthusiastically Moustaka's work. 
He takes part in the exhibition 'Three Sculptors' at Iakinthos Gallery, displaying sculptures and drawings.
He takes part in 'Contemporary Greek Sculpture' at the National Garden of Athens, hosted by  the Ministry of Culture. 
He travels to Verona and meets the Italian sculptor Finotti-he stays at his studio. They travel to Venice.
1. 'Events '88'-Municipality of Athens. 21 sculptures of Moustakas at Korai square.
2. Setting up the 'Greek Resistence' monument in Thessaloniki 
3. Setting up the 'Universal Symbol' in Ambelokipi

 'Onboard Women' drawings, Ιndian Ink 0.70Χ0.50