1985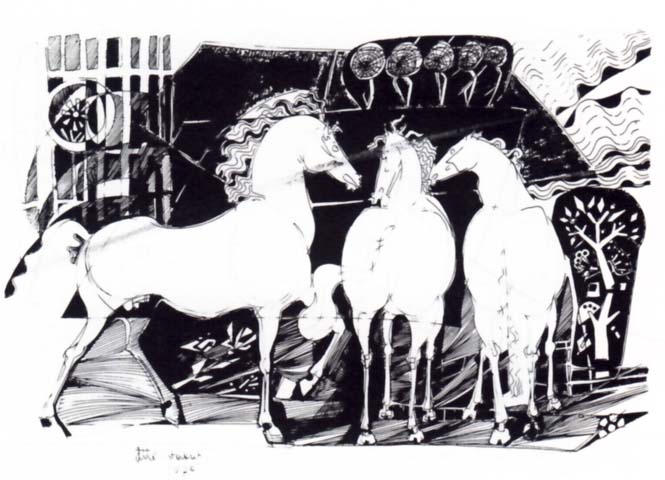 The Ministry of Culture purchases one of his works.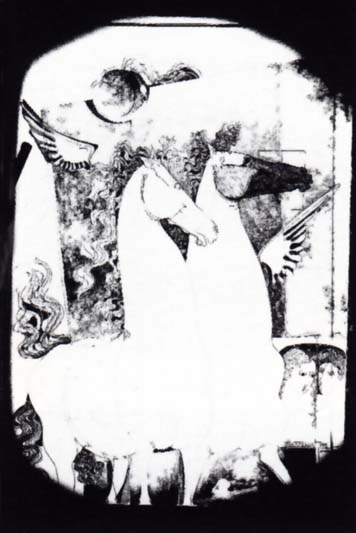 He carves a marble bust of Eleni Papadaki, a tragedienne, for the First Cemetery of Athens.
He creates the 'Memorial to the Hanged' in Tripoli.
He receives the 3rd prize in the 'National Resistance' comeptition at Gorgopotamos. He takes part in the exhibitions 'Athens, Cultural Capital of Europe' and 'Painted Space - Thatricality' with 'Sarcophagus' and 'St Sebastian' at the Koulouras Hall - an exhibition organised by the Benaki Museum.
He takes part in the 5th Sculpture Biennale at the Skironio Museum and the 'Festival of Youth' at the Peace and Friendship Stadium (SEF), with drawings and 'Don Quixote' sculpture.
Compositions with horses, Ink, 0.45Χ0.30 (1989)
1986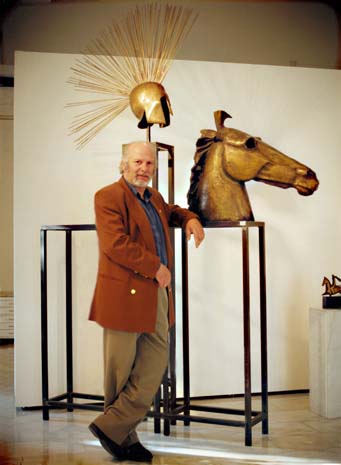 He receives the prize for the 'National Resistance' monument in Thessaloniki.
He takes part in the Visual Arts Exhibition in Cos, organised by the Ministry of Youth, and the 'Sculpture - Drawings' exhibition at the Consevatory of Athens.
He is invited to the Mediterranean Conference of Poetry and Visual Arts in Sicily.
In autumn, he travels to Italy and Paris and meets prominent Greeks. He visits monuments, museums and art galleries.
Beside 'Horseman of Macedonia', Exhibition in Cyprus  
1. The composition on the 'National Resistance' monument is ready for the foundry
2. Waterfront of Thessaloniki-Back view 
1987
1. 'Dionysian Mask', 1992
2. 'Flowers', Oil, 0.80Χ0.60
3. 'Flowers', Oil, 0.80Χ0.60
Moustakas creates the 'Fallen Aviators' monument in Tanagra.
He becomes a member of the Committee for War Memorials and Statues of the Ministry of Culture.
He takes part in the Panhellenic exhibition of the Piraeus Port Authority and the 'Sculpture in the Light of Attica' exhibition of the Municipality of Athens.
A team of the Israel National Television shoots a documentary on the subject of 'Sarcophagus'.
Photographs: With the May Day flower wreath, 1984
1988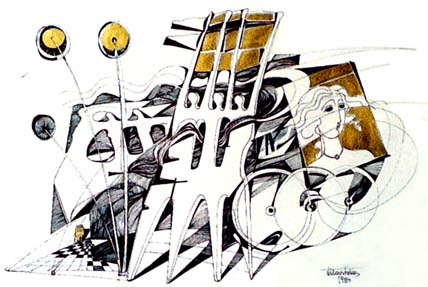 In spring, he visits Florence.
In summer, he participates in a solo show with 21 large-scale sculptures in 'Dromena '88' of the Municipality of Athens in Korai square.
One of his works is bought by the Municipality of Athens.
In autumn he travels with Zoe to America (Los Angeles and Sacramento).
He decorates private premises with his sculptures. He meets leading figures of the Greek-American community and is received by the Greek benefactor Angelos Tsakopoulos -Founder and Sponsor of the Kazantzaκis Chair at Berkeley University and the Vryonis Center at Sacramento.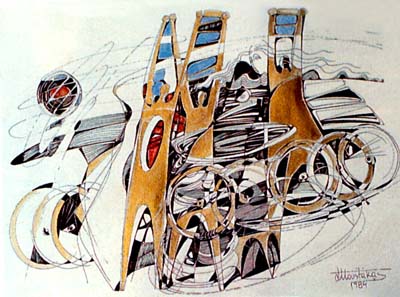 He meets Michael Dukakis, US presidential candidate.
He visits the astonishingly beautiful Lake Tahoe, located along the border between California and Nevada. On his return to Sacramento, he undergoes emergency heart surgery.
In winter, he sets up his work 'Word Symbol' in the Park of Ambelokipi.
1 - 2 - 3 - 4. Drawings (1984), Ink and colours, 0.50Χ0.70