1976 - 1977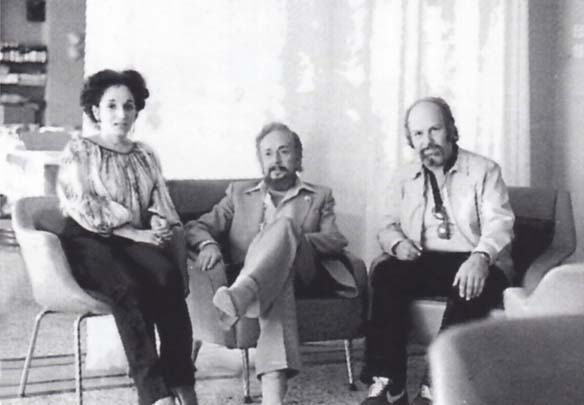 Group exhibition at Nikaia, Piraeus, at the 'Theatre Vrahon' with 'Human Shield'.
He creates two 'Seated Figures' - sculptures in copper (1.10 life size) at Likouria, Kalavryta.
With Zoe, he visits Israel - museums, monuments, universities, the scenes of Christ's life, Gennesaret, Capernaum, Dead Sea, and the river Jordan. The miracle of persistence, patience and creativity of this people makes a profound impression. He meets the sculptor Betzalel.
Ηis mother passes away.
With the poet Yannis Ritsos
1. "Arkadia 2000" Tripoli Festival with visual art and poetry, 1984
2. Open-air solo exhibition, Tripoli (1984)
3. Study drawing for a sculpture (1980)
1978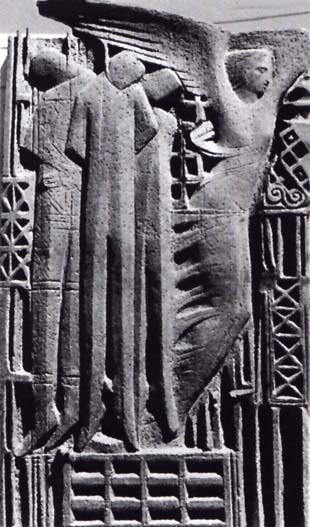 He creates the 2,300 anniversary medal of Aristotle for the University of Thessaloniki, in gold, silver, and bronze.
He takes part in 'Sculpture '78 - Philothei' and becomes a founding-member of the Association of Sculptors.
He takes part in the open-air 'Contemporary Sculpture' exhibition at the Consevatory of Athens, and in the group exhibition 'Eleven Sculptors - Motherhood and Child' at the Municipal Gallery of Athens.
His work 'Man and Bird' is bought by the Vorres Museum of Contemporary Art, Paiania.
He starts to work with the Zygos Gallery and holds a solo exhibition.                                                                                                     
'Monument of the Hanged', Tripoli (1986), Bronze - height 3.50 m.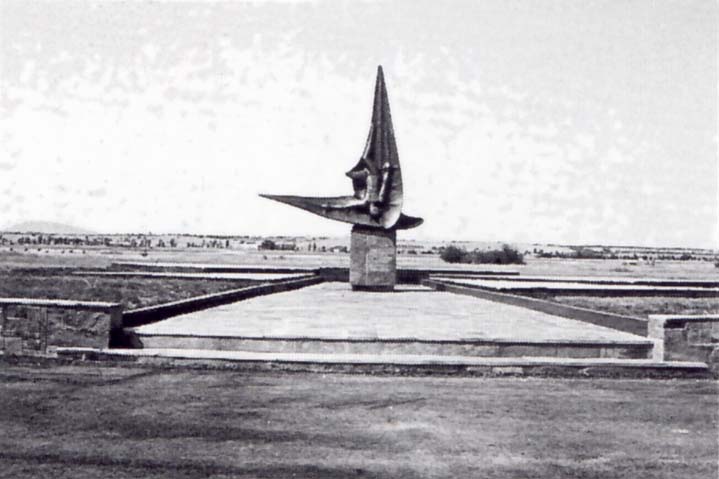 Among the reviews:
"...As already mentioned, the sculpture of Moustakas is polyphonic and extends with energy and plenitude into the lyrical realm of the emotional soul. His erotic themes start out by shaping the chthonic mystic attraction of Beings, as in the large geometrical work in his garden, and reach the specialised love, which, gossamer-light, moves on the wings of winds (portrait of his wife). Generally, the sculpture of Moustakas denounces life 'at risk' and together with it, his own solidarity with man of every land.."
NIKOS ALEXIOU
Monument to the Lost Aviators at Tanagra, (1988), Bronze 4.60 x 3.00 x 1.50                                                                                                        Art Critic
Rizospastis, 1978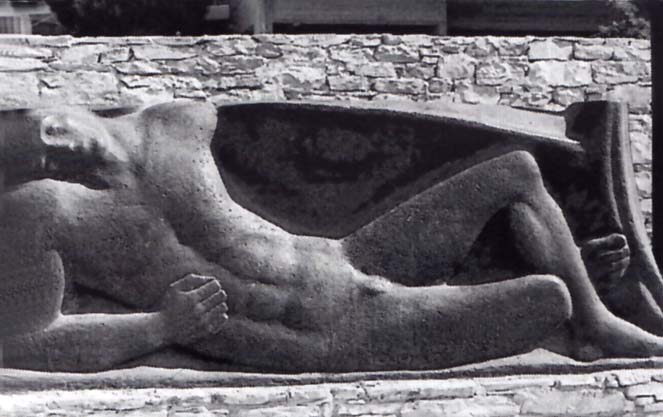 "...The art of Moustakas is not passive to the world; it is an art which has been put on the rack and which is profoundly reflective. To be understood, it presupposes on the part of the observer a complete alertness and participation in the historical process - similar to that of the creator - whether we have monumental compositions or references to the sphere of pure thought"
V. MOUNDREA
Art Critic
Monument to the Fallen at Pallini, (1980) Bronze 3.00 x 1.00 x 0.50