1971 (continued)
Solo exhibition at the Diogenis Gallery, Thessaloniki. He takes part in the 11th Panhellenic Exhibition. A work is bought by the Ministry of Culture and Sciences for the National Gallery in Athens.
He takes part in the 'Greek Art Today' exhibition of the Upper Grosvenor Gallery in London.
In 1970-71, the art historian Rudolf Wittkower gives lectures on the work of Moustakas entitled 'From Traditional to Modern' at Cambridge.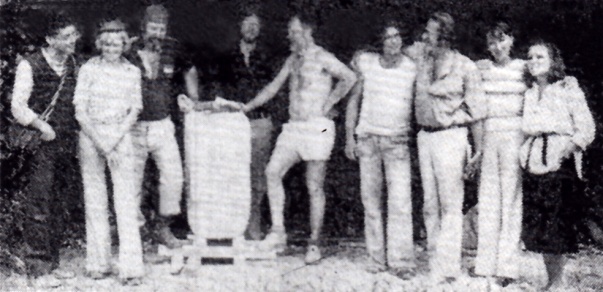 Greek-Swedish Marble Symposium at Kavala (1979)
1. 'Helen', Marble
2. 'Perla', Marble
3. 'Portraits', Marble
'Dionysus', Marble
1. Moustakas working on marble
2. 'Phaethon', Marble, height 2.00 m.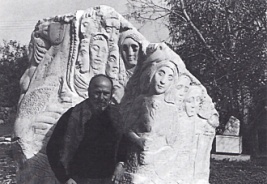 'The Block', Marble, height 2.30 m.
«The tree» Marble,  0.47χ0.21χ019   &   «Tree and People» Copper 0.38Χ0.35Χ0.18
Above: Study drawings on trees.
1972 - 1973
He works on large hammered compositions in metal and galvanised metal, stainless steel plates, and sheets of metal. The subjects of his work operate with a transformative rationale. The freedom which he achieves through the mythic or the surrealistic element leads him to a magic, tragic or idealistic approach bordering on the spiritual. He produces 'The Universal Symbol' and  'Human Shield', he sketches 'Horse Psyche', 'Pigeon House', 'Cloud' and 'Don Quixote'.
  Spyros Vassileiou and Moustakas- at the forme's house in Euboea
1-2. Moustakas working on 'Man and Bird'
3. Designs on the sculpture 'Uomo-Uomo'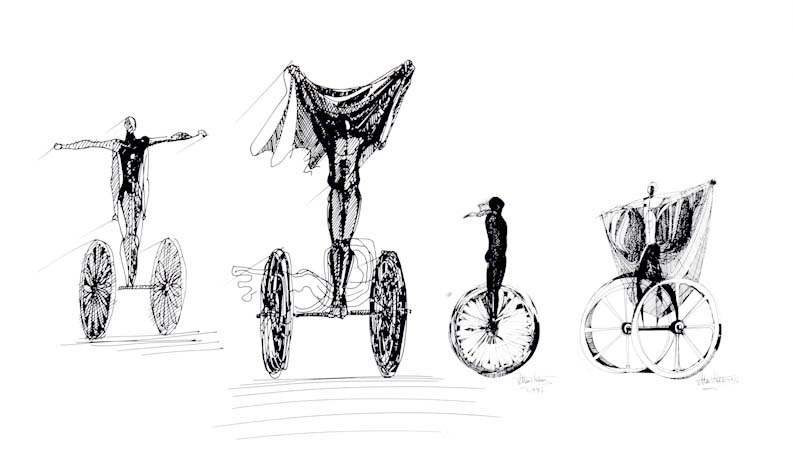 Study drawings on «Uomo-Uomo»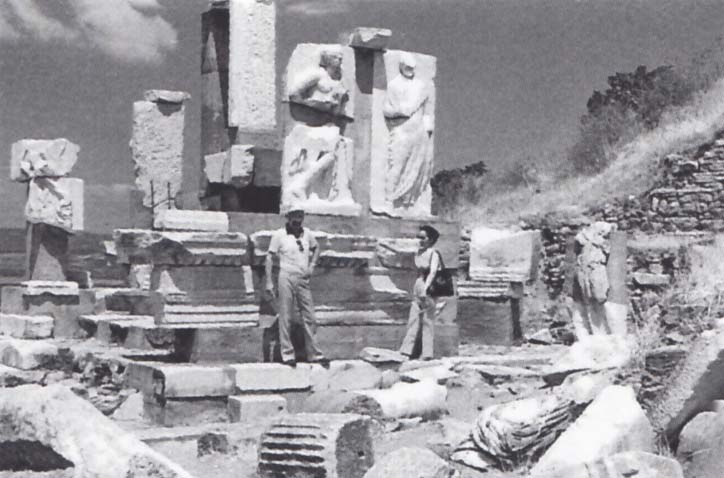 "There is a keystone which drives the world of my ideas together with a broader range of eradiating allegories or mythic themes. Nevertheless, it is not about the narrative or symbol which one gives, but the manner in which it is realised through 
sculpture as a
 solution. This comes first. Sculpture is solid material, otherwise it would be like a leap into the void; at least the kind of sculpture I am familar with and work on - strenuous sculpture, especially the hammer work, which once brought about muscle fatigue. My method is arduous and laborious from the moment of conceiving an idea until its completion. You transfer intellect to the material, which contains it and fights you. Here I become universal and approach the bounds of a 'Universal Mind
'
".
  Ephesus 1979
1. A view of the studio/home
2. Solo exhibition at the Zygos gallery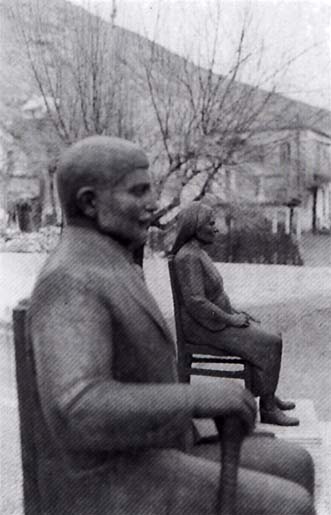 He takes part in the 11th International Biennale of Small Sculpture in Budapest and the 12th Panhellenic Exhibition in Athens.
He goes to Florence and Milan and meets his friends- the artists Polycratis and Petros. They are associated with a long-standing friendship.
He carves the 'Attic' bust in marble.
The American film producers Matthew and Sherilyn Mentes from San Clemente, USA, film a documentary about the artist called 'Portrait' in Greece. This appears in cinemas in the United States and is afterwards releases in a video cassette.
'Seated Couple', bronze 1 1/10 life size