1960 - 1964
He receives a 3-year scholarship in Italy by the State Scholarships Foundation of Greece.
1. Florence
2. Florence-Shooting center
He gets married to Zoe and they leave together for Florence. His postgraduate studies at the Academy of Fine Arts include engraving and decoration-his teachers are Berti, Pope John's sculptor, and the sculptor Albano. Vianni is the instructor of the engraving studio, while he attends the art of bronze casting in the Comintatore foundry, Bruno Bearzi.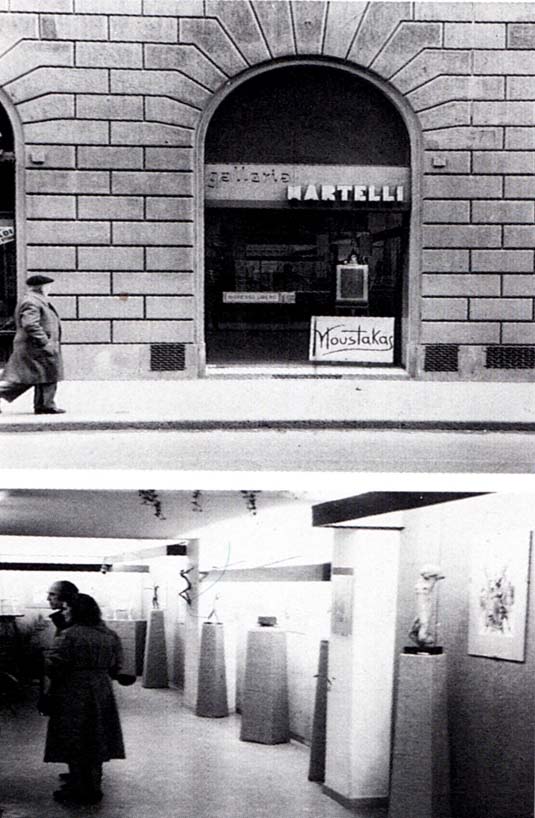 He took part in exhibitions at the Galleria Gai and Galleria Martelli, exhibiting with De Chirico, Rosai, Sofitsi, Sassu, Tozi and Gutuso. He received the Gruppo Donatello prize in a painting exhibition. 
He holds his first one-man exhibition in Florence at the Galleria Martelli.
Almina Doyati Fusi writes: "Moustakas carries sound foundations of study, which allow him today to create works which are powerful and important".
It is at this point that his compositions with the melted wax method, as in his first design for 'Wagon - Sarcophagus', start.
Galleria "Martelli" - Moustakas one-man exhibition
He works with the architect Walter Gropius on molded decorations at the University of Baghdad. He travels all over  Italy and visits museums, palaces, monuments, churches and major exhibitions.
He sees Donatello as an 'archaic' Italian sculptor, and is captivated by the artists of Renaissance and of modern Italy: Martini, Rossi, Marini, Manzu, Facini.
He visits the Venice Biennale in 1962 and is impressed by the Spaniard Serrano, the Swiss Giacommetti, the Greek Kapralos. At this point, he reconsiders his course. He realises, to his surprise, that his works bear some relation to the work of Giacometti. He destroys them all.

1. "Resting Woman"-Plaster 0.40 x 0.17
2. "Figures" - Bronze (1962) - Height 0.50
3. "Horse" - Bronze (1962) - 0.50 x 0.40
4. "Dancing"-Plaster, 0.70 x 0.80
5. "Crucified" 0.50 x 0.25
"It was then that my memories began to lay siege to me and to pierce me like a sword from every direction. For a  month or two I couldn't sleep day or night. Zoe stood by me, my guardian angel. Gradually and instictively, I began to give flesh and blood to my memories as freely as I could, expressing my own truth".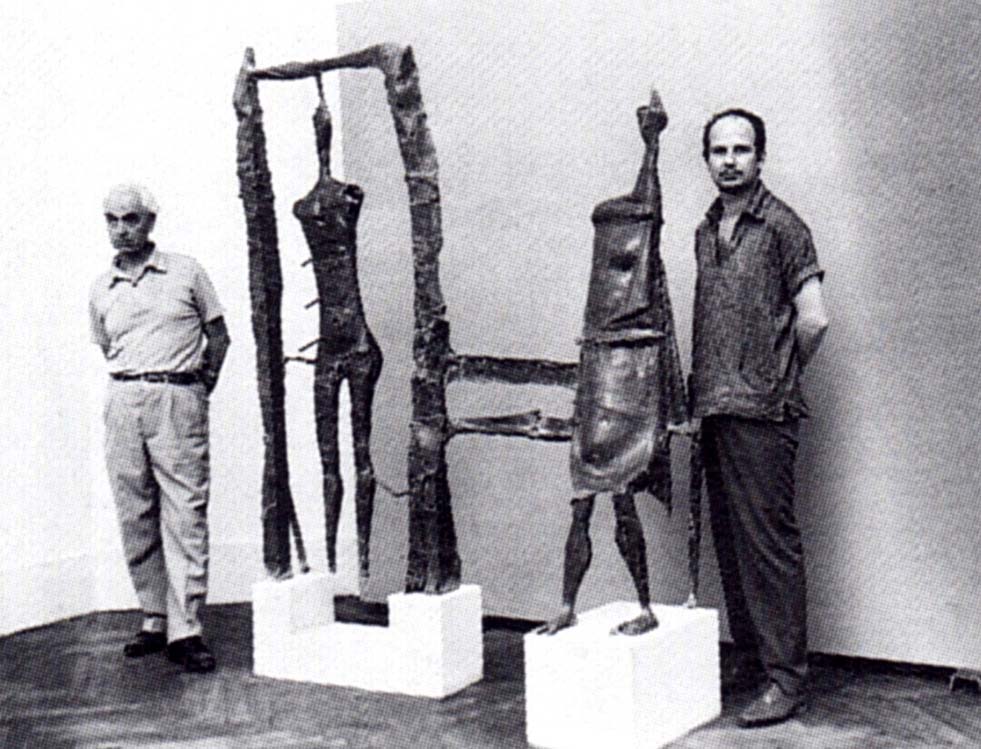 They get to know other artists who are scholarship-holders, such as Kalamaras, Polykratis, Tzopanakis and those from Paris who visit Florence. The Nelson Atkins Museum in Kansas City, USA, buys one of his works.
In September 1962 their first son, Ioannis, is born in Florence. 
Venice. With Kapralos (and one of his sculptures) at the'62 Biennale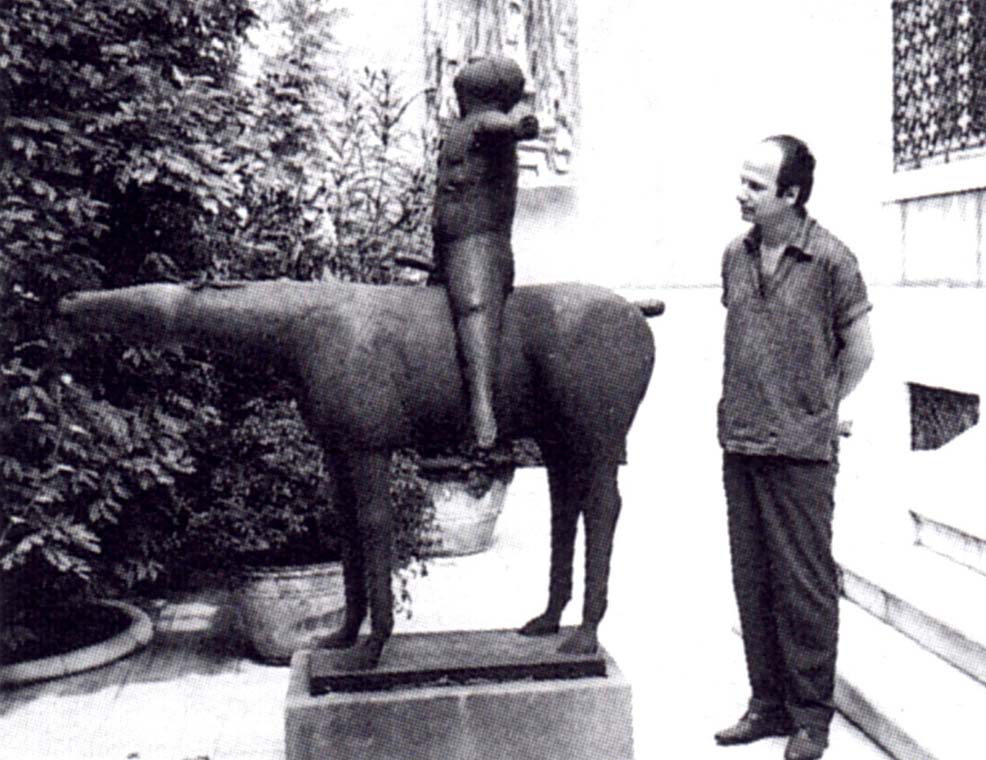 "The sight of my pregnant wife brought me up short and made me think. The moment I saw her pregnant, I realised the divine mission of Woman. From then on, pregnant women became a subject for my art. The vibrations I experienced led me to a multitude of pregnant women - lone figures or in compositions. They allude me to a caress of hope towards mankind. I remain a realist in a very broad sense".
Venice 1962 at the Guggenheim Museum
At the end of 1963 they returned to Athens. Moustakas takes part in the 7th Panhellenic Exhibition with his works 'Hiroshima', 'Descent from the Cross' and 'Portrait'.
1. "Hiroshima", bronze (1961) 0.50x0.31x0.17
2. "Descent from the Cross", bronze (1961) 041x0.28x0.17
3. Portrait of Zoe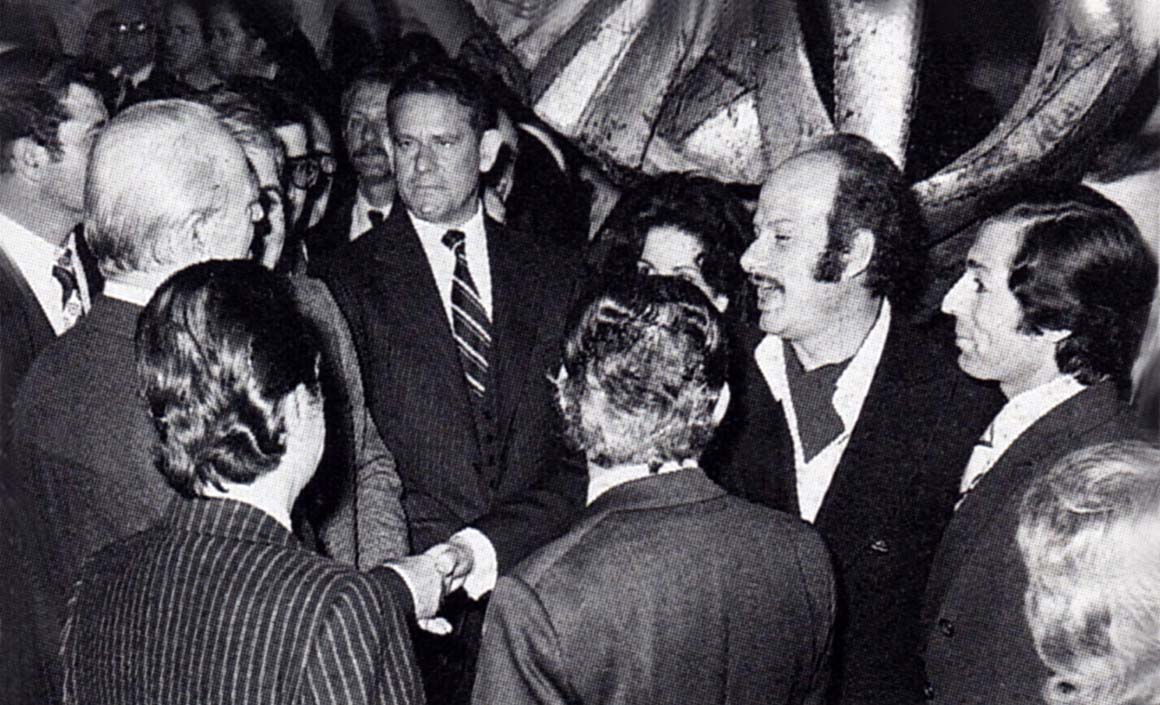 With his free compositions he takes part in major international exhibitions and state competitions. He participates in the Zagreb International Exhibition in Yugoslavia. He wins the first prize in the 'Eftychia Kalyva' monument competition. In the '80s the local Prefect orders  to tear it down and it is thrown among the rubble in a school yard , because, as he says, "The monument was reminiscent of a period of national division". The work shows Eftychia Kalyva leading her two younger brothers.
The story: Eftychia Kalyva wanted to hand her brothers over a nearby military camp in order to avoid their capture by insurgent groups and subsequent transfer to the  Eastern Bloc. On the way,due to the heavy snow she covered the two childern with her own body, thus saving their lives, while she froze to death. She was 19 years old.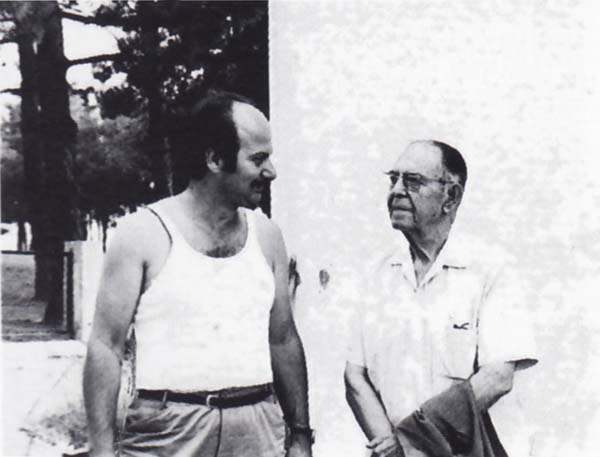 He received 3rd prize in the 'Eleftherios Venizelos' competition in Thessaloniki. At this time he was working on compositions in wood and plaster with sackcloth and casting sculptures of small forms.
In October, Zoe gives birth to their second child, Eleni.
1. With the Prime Minister Konstantinos Karamanlis
2. With his master Michael Tombros - academic.