1965
Death of his father.
He takes part in the 8th Panhellenic Exhibition with his work 'My Father' - a sculputre of a seated figure created in 1955. Around the seat there are railway carriages and engines carved in relief.
The Ministry of Education purchases one of his works.
At this time he is working on restorations of Byzantine antiquities in Thessaloniki with the painters Kolefas, Karavouzis, Tsirigoulis, and the Cyprian sculptor Farmakas.
1. Portraits: "Couple" 
2. V. Moustakas with A. Aspida
3. "Triumph" Wrought (1970)
4. "Victory yet to come" Copper in investment casting (1975)
"I was haunted by the spectre of starvation; I had to survive as an individual and as the father of a family. When I returned from Italy, I found all the doors shut. I survived this by sacrificing time from my own creation. Nevertheless, every experience adds something to your life"
At the same time, he produces new work: 'The Message', 'War', 'Psyche', etc. He starts to work with the Diogenis Gallery in Athens and Thessaloniki, which has foreign collectors among its clients. This move proves a success for Moustakas. Influential people ask to meet him. They buy his work at a time when painting is the only popular art among buyers in Greece. This encourages him to go on to produce other sculptures in various materials.
Eleni Vakalo had told him: "You will come from the outside"

Drawing : «Sarcophagus -the train»
1. "Wagon –Sarcophagus" Study on the large Sarcophagus (1961) Copper 0.25Χ0.13Χ0.13 
2. "Wagon –Sarcophagus" New sculptors award 1966 of the Hellenic American Union (second study on the large Sarcophagus) Copper
0.32 x 0.28 x 0.15
1966
 He takes part in the Contrmporary Greek Art exhibition in Sofia, Bulgaria, and in the Open-air Sculpture exhibition in Philothei with the work 'War' in plaster and sackcloth, a work which produced the following comments:
"…A work of sublime art. Moustakas, whom we have seen a number of times this year dealing with the same theme, is one of the most appreciated forces in Greek sculpture. He is one of those who seem to believe that art has its roots much deeper than the dexterity of the hands…"
NIKOS ZIAS
Art Historian
Mesimvrini, 1966
1. In his studio
2. Portrait of Zoe - Sanguina and pastels (1961),  0.70Χ1.00 
3. His daughter Eleni

"Horses", Oil,  0.61Χ 0.13
"…As already noted, the work of Moustakas should have won an award in the exhibition. The committee has overlooked a work with virtues in its composition, a purpose in its conception, and even references of sublimity, while, especially for the young, the judgement ought to be made with a breadth of perspective. This is a work with two sides. Nevertheless, we should note that it succeeds in being meaningful in all aspects, it allows us to pass from one side to the other, or rather it declares it at the same time, as the back levels of the one play a part in the interstices of the other. This is a solution in terms of composition which shows an unusual breadth of conception and in which he sees the problem of plasticity as combined with a vision in a way that its formal elements, stances, attitudes, proportions, mutations of expressions, etc. are dictated by a deeper necessity inseparable from the meaning of the work…" 
ELENI VAKALO
Poetess - Art Critic
Ta Nea, 1966
"…In general terms the sculpture of Moustakas is marked by a sincerity and energy of feeling, making his creations appear with an organicity which breathes into them a peculiar life and expression. In his will, Rodin, addressing the young, wrote: Your spirit must conceive every area as the projection of a mass which is behind it and pushes it. You should imagine forms as if they were facing in your direction. Every life stems from a centre; it then blossoms and surges outwards from within. The same thing happens with good sculpture. You can imagine a strong internal impulsion in it. This is the secret of Ancient Art..".
STELIOS LYDAKIS
Art Historian
Ekpompi, 1966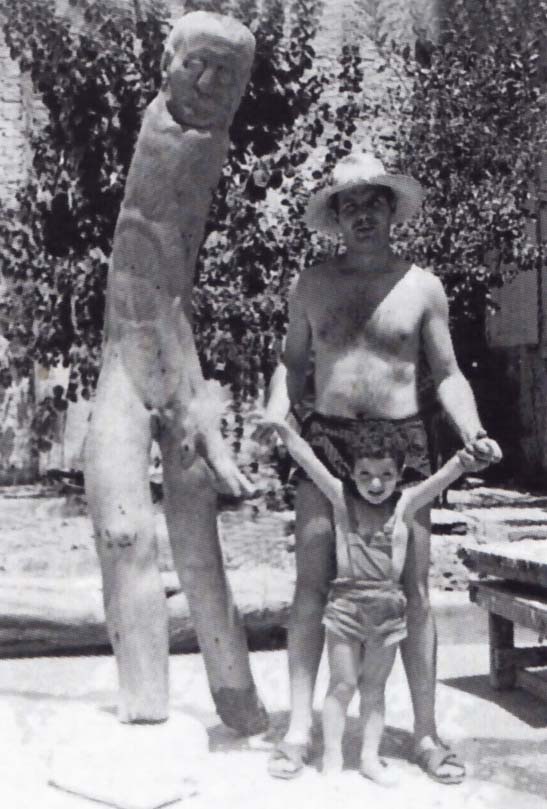 Moustakas is awarded the 1st prize for young sculptors at an exhibition at the Hellenic American Union. He receives 2nd prize at the 'Young Greek Sculptors' exhibition held by the Ministry of Education for his work 'War' in wood.