1989
1."Fraternization" of Epidaurus and Nishiki-Cho (Japan)
2 - 3. Visit to Japan
In spring, he sets up the 'National Resistance' monument in Thessaloniki.
He visits Japan and carves a sculpture in marble in Nishiki-Cho. He visits Kobe, Kyoto, and Tokyo. He is impressed by the architecture of Kenzo Tange, garden architecture, modern and traditional buildings and temples, and the standards of cleanliness, the aesthetic sense and the sensitivity of the Japanese people. Afterwards, he travels to Los Angeles, where he meets all his friends of the Greek-American community - including Michael Dukakis. At Sacramento, one of his sculptures is placed in private premises.
1 - 2.  Travel to Japan for the fraternizaton of Epidaurus and Nishiki-Cho.
He begins working with the Argo Gallery in Greece and Cyprus. At the same time, he is working on construction sculptures.
Study drawings for a sculpture in Sacramento - 1989, Indian ink and metallic paints  0.40Χ0.30
1990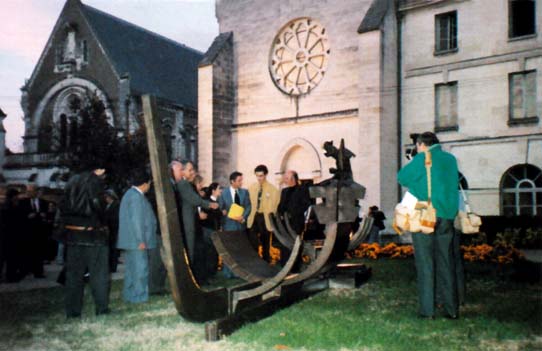 Moustakas designs a medal for the Canon International Conference.
He takes part in the 'L'eau et l'Europa - Creacite' exhibition with his work 'Ship' in France. At Tours he visits the mythical castles, museums and churches.
He reads a paper at the 2nd Visual Arts Conference.
Τhe Pierides Foundation acquires "Οnboard Woman".
The Hellenic Ministry of Culture purchases one of his works.
He begins to work with the Astrolavos Gallery.
A Japanese film crew shoots his work for the Educational TV Channel 6 of Tokyo.
At the same time, he makes progress on works designed during the previous ten years, including construction sculpture, in which he uses objects as materials.
1. At the studio with the Mayor of Pallini and the Mayor of Gurty (France), 1992-Reception at the garden of the studio for the fraternization of Epidaurus and Nishiki Cho.
2. Studens from the Costeas - Geitonas School at the studio. Questions and answers about sculpture, followed by Haiku poetry readings by Savina.
3. Study drawing for sculpture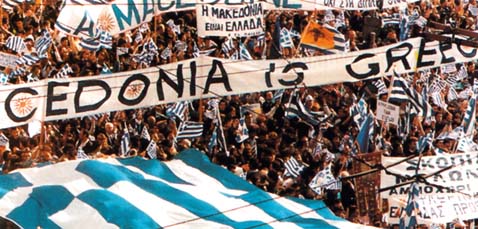 "Among my designs, there are studies for construction works and works with objects as materials. My contact and wrestling with the material itself is very interesting. It carries you away and you are carried away likewise- according to Aristotle's definition, the primal  matter contains the work by virtue- it's the artist who releases it. However, in the case of ready-made objects as materials, another relationship is born: 'a relationship of affection' or 'a relationship of salvation' with the object. A 'mania' siezes me, in Plato's words according to the inspiration of poets; faced with the corpse of the 'dead objects', I am the one who chooses, from a position of power, to bring to life a part of them. Therefore, the artist 'is the void' which becomes 'useful'. Naturally, in the sense that Lao Tzu identified: "If we make a clay pot, it's the empty space inside the pot that matters most."
Mass meeting in Thessaloniki upholding the Greekness of Macedonia - 1992
1. 'Alexander the Great', Ink and metallic paints
2. 'Flags', Ιnk and metallic paints  
3. At the garden of his studio, working on sculptures